12.03.2018, Tuesday
We invite for the lecure of prof. Sabrina Ramet from the Norwegian University of Science and Technology. Sabrina Ramet is one of the most important scholars who work on the social and political transformation in the post-socialist area. Her papers on the conflict in former Yugoslavia and the state-building proces have received a great attention. More about her scientific interests, curriculum and bibliography can be found on her personal page here. She'll give in Warsaw a lecture entitled Building democracy in the post-Yugoslav successor states, at the BUW, ul. Dobra 56/66, rooom 315, 11:30.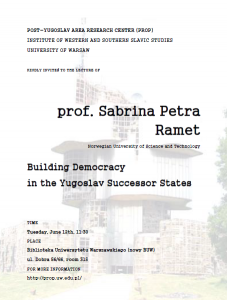 6.03.2018
PhD Olimpia Dragouni (Humboldt-Universitat zu Berlin) was a guest of the PROP. She held an open lecture on the historical and socio-cultural context of the Greek-Macedonian conflict regarding the name "Macedonia", and she talked about her research on the tourism around the Greeko-Macedonian border. She gave also a deepen presentation of her research, accompanied with discussion, for members of the center.

27.04.2017, Thursday
PROP had the pleasure to invite students and researchers to the workshop and lecture given by prof. dr. Ildiko Erdei from the Institute of Ethnology and Anthropology at the University of Belgrade. Both workshop and lecture, so as the discussion, were held in Serbian. The subjects treated by the visiting guest were: "Teren": izazovi istraživanja događaja u pokretu ['The Field': challenges of research on going-on phenomena], and Jugoslovenski san" i ono što je došlo posle: potrošačka kultura u socijalizmu i postsocijalističkom kapitalizmu [The Yugoslav dream and that what came after: consumer culture in socialism and postsocialist capitalism].

21.02.2017
Post-Yugoslav Area Research Center has been oficially established by the decision of the Faculty Council, Faculty of Polish Studies at the University of Warsaw, adopted the 21.02.2017.