10-13 June, PROP hosted prof. Sabrina Ramet in Warsaw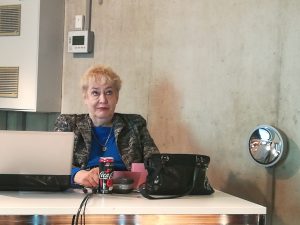 On the first day, Prof. Ramet led a seminar at the Institute of Southern and Western Slavic Studies on socio-political situation in Macedonia after the dissolution of Yugoslavia. After prof. Ramet outlined the dynamics of democratic changes in this country, the discussants moved the conversation to questions of possible alternative to nationalisms, comparison of Macedonian and Bosnian case, and personal involvement of scholars.
On the second day, Prof. Ramet gave an open lecture on 'Building Democracy in the Yugoslav Successor States', during which she elaborated on various dimensions and trends of post-communist transition in the Balkans. While the lecture provided mostly comparative analysis of 'hard' indicators of democratization process in the period 1991-2017 – such as media freedom index, corruption index and other – the following discussion went more towards reflection on the contemporary situation in the region. We talked, among other things, about relationships between authoritarianism and economic freedom and the prospects for further democratization in the region in rapidly changing geopolitical context.
It was a pleasure for us to host prof. Ramet at our University.
7.06.2018, Thursday
PROP had a pleasure to host prof. Robert Hayden (University of Pittsburgh). He gave a lecture on Religiously Nationalizing the Landscape and Conflicting Commemoration in Bosnia–Herzegovina, where he presented an inspiring approach to the landscape, or 'natioscape,' in Bosnia, presenting some aspects of his newest research on the antagonistic tolerance, involving other scholars from different countries (India, Bulgaria, Portugal). After the lecture he took part in the seminar where we discussed among other questions on international presence in Bosnia. More about prof. Hayden's academic activities and a selected bibliography of his works can be found here.
6.03.2018
PhD Olimpia Dragouni (Humboldt-Universitat zu Berlin) was a guest of the PROP. She held an open lecture on the historical and socio-cultural context of the Greek-Macedonian conflict regarding the name "Macedonia", and she talked about her research on the tourism around the Greeko-Macedonian border. She gave also a deepen presentation of her research, accompanied with discussion, for members of the center.

27.04.2017, Thursday
PROP had the pleasure to invite students and researchers to the workshop and lecture given by prof. dr. Ildiko Erdei from the Institute of Ethnology and Anthropology at the University of Belgrade. Both workshop and lecture, so as the discussion, were held in Serbian. The subjects treated by the visiting guest were: "Teren": izazovi istraživanja događaja u pokretu ['The Field': challenges of research on going-on phenomena], and Jugoslovenski san" i ono što je došlo posle: potrošačka kultura u socijalizmu i postsocijalističkom kapitalizmu [The Yugoslav dream and that what came after: consumer culture in socialism and postsocialist capitalism].

21.02.2017
Post-Yugoslav Area Research Center has been oficially established by the decision of the Faculty Council, Faculty of Polish Studies at the University of Warsaw, adopted the 21.02.2017.